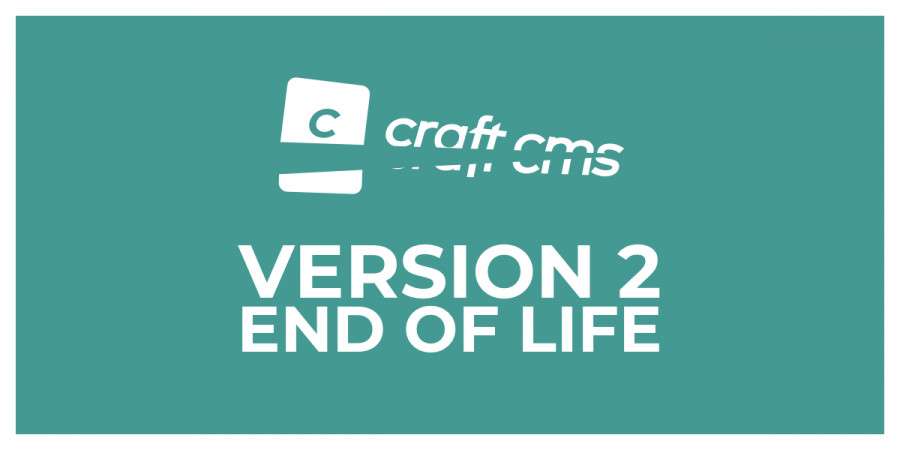 Craft 2 end of life... what next?
---
Things move quickly in the world of technology and web development is no exception to the rule. Most websites are built on top of existing software, usually called a Content Management System or CMS for short, to manage web pages and the content within them. CMS software usually has a shelf life of a few years before upgrades or migrations are needed to keep up to date with progress.

Websites that have reached or passed their end of life can lead to serious security risks, leaving your website vulnerable to possible cyber attacks.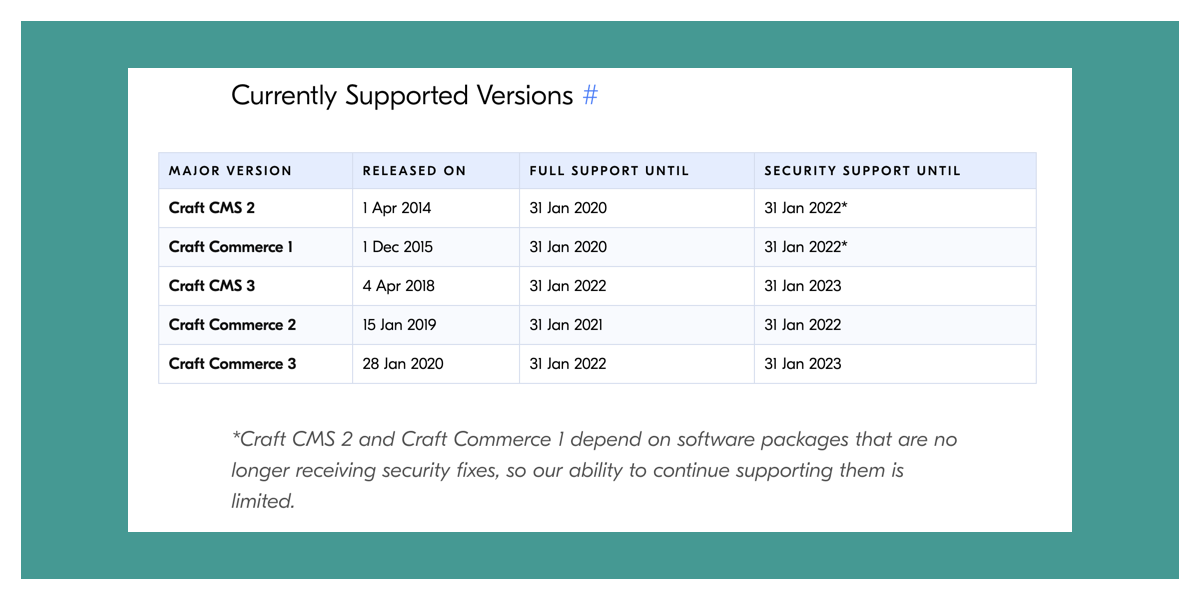 Craft 2's time is almost up
Craft 2 was released on 1st April 2014 which at the time of writing makes it 6 years old. Unfortunately it has already fallen out of full support from Pixel & Tonic (the makers of Craft), but is still receiving security updates until 31 January 2022.

Whilst your Craft 2 website is still secure (as long as updates are being run regularly), now is the perfect time to start thinking about the next step to take to ensure your website is ready for the future.

Alongside your Craft install, you probably have lots of plugins that need updates and upgrades to avoid security issues. A lot of these plugins have licenses of their own, and falling behind on these can leave your website vulnerable to attack.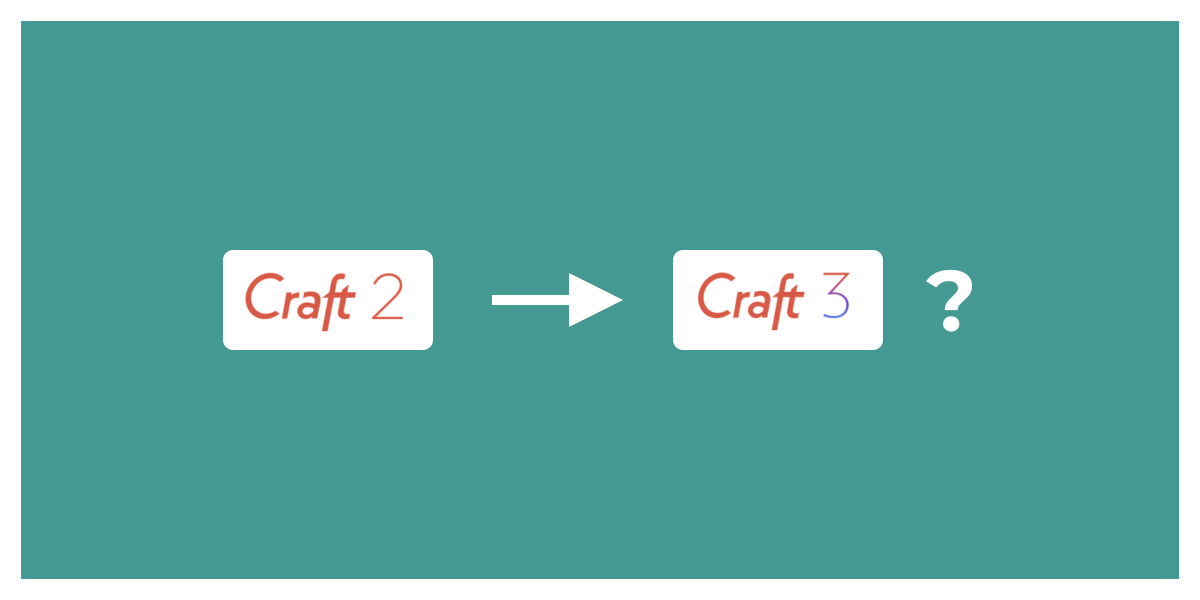 Should you upgrade to Craft 3?
According to the above timeline, support for Craft 3 ends at the start of 2023. That means that even if you choose to upgrade your site to Craft 3 (a task which may be a bigger undertaking than expected), you could be left high and dry with a CMS with no support or updates a few months to years down the line.

Remember those plugins? They'll also need upgrading to Craft 3 -compatible versions (if they're even available) too, and any custom functionality implemented as a Craft 2 plugin will need to be rewritten largely from scratch for Craft 3.

If you've dealt with Craft before you may know that it's fairly niche. It's fairly difficult to find developers and agencies with the experience necessary to maintain complex Craft websites and you may end up in a nightmare situation where your current web provider can't easily or efficiently keep up with your website's demands.

Craft 3 may not be the best option for the future. A short lifespan and low market share it may make continuing with Craft a compromising factor for your sites upkeep and security.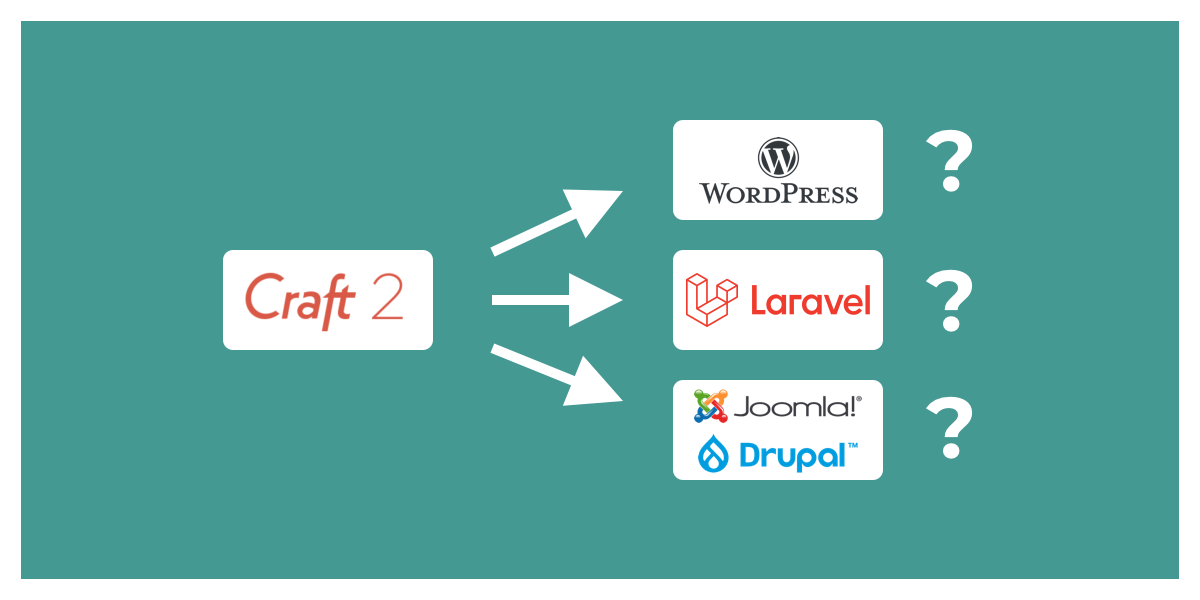 Choosing the right platform
Ensuring your website is built on a platform that is portable, secure and dependable going into the future is essential for maintaining the level of service your customers expect from your website.

When it comes to choosing website platforms, the most mature ones with the biggest communities are often the best choices, simply because there are more people actively working in their ecosystems and providing a higher level of service and compatibility.

There are couple of platforms available, but two of the largest are Wordpress and Laravel. Wordpress is generally used for smaller brochure websites and small e-commerce stores because of its flexible CMS and plethora of existing plugins. Laravel is a great platform for more complicated websites and software which require something more than just a CMS can provide.

We'll cover Wordpress another time, but right now let's look at why Laravel is a good pick for your next website.



Creating a CMS with Laravel Nova
Laravel is a mature php framework - a group of tools and best practices - that has a proven track record and huge user base. It's run on over 125k websites according to
SimilarTech
- over ten times more than Craft, which has just over
10k
.
Building websites with Laravel lets developers separate business logic from the visuals of the website in a way that you wouldn't typically have with a CMS website. This means that given any business relationship hiccups, you can feel safe knowing that your website is portable and can be hosted and worked on by other php developers without issue.
Aside from the benefits of a larger user base, portability and flexibility, Laravel has several first-party extensions available that make building software on top of it a breeze by providing the major building blocks that are missing from the barebones framework. For example, Laravel Nova is an administration panel that lets you turn a standard Laravel website into a fully fledged Content Management System for any data in your website, with all the bells and whistles you'd expect from any full-featured CMS.
Moving forward with Laravel
We're always looking to the future by finding innovative ways to use new technologies that give great end user experiences, and we believe websites needs to be flexible and respond to new requirements and needs. Changes to a Laravel website without the constraints of a CMS can typically be made quicker and more reliably than with a traditional CMS like Craft.
With a trusted technology partner like Click at your side and a flexible framework like Laravel under the hood of your website, you can put your business ahead of the game safe in the knowledge that you wont be left behind.
Get in touch today
and see how we can help!