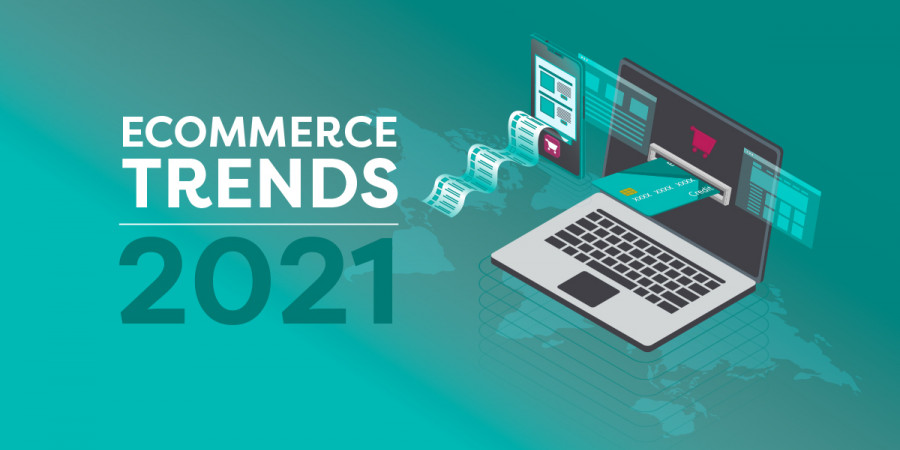 Ecommerce Trends in 2021
---
Though the pandemic shook the nation, it definitely caused a rise in demand for ecommerce. Shops are closed and customers are homebound which has led to staggering increase in online shopping (November 2020 saw an increase of 79.6%!). So the question here is, are you aware of the trends impacting the ecommerce-sphere? If not, let's dive in.

Purchase paths


They're a big thing. How many times have you given up trying to purchase something online because the user journey was so labour intensive? If you're like some of our team (we're not naming names here) and you shop online quite frequently, then having that seamless consumer journey is key.
So how can you achieve that? Put yourself in your customers shoes. We'll use retail for example, you want a new coat and you're heading into the store - you dive right into the coat section, true? So why not allow your consumers to do that online. Create and use a robust search and/or filtering system; let your customers filter via size, colour, style and heck maybe even brand if you offer more than one. That way it's exactly like they're flicking through the rails in your brick and mortar store.
Next up, site speed. Is your site a little slooooow? Then you'll want to do something about it. Slow speeds straight off the hook will make your consumer go elsewhere. We shared our top tips on this over on Instagram - but you should check that out soon, stay here for a little while, we've got more to discuss.
Seamless and streamlined returns/exchanges. How many times have you gone to return an online order and god dammit you cannot find that returns slip anywhere!? If you're trying to save the planet (good on you!) and are not including these slips in orders, let the customers know via email. But also share exactly what you want them to do in order to process a return. This could be a simple QR code on the clothing label that they scan, it could be a link within the order confirmation email or once the delivery has been confirmed you can follow up with an email such as "Not what you expected? You can return here" and give them a link. Easy right?

Bring your in-store journey online


Bridge the gap between you and your customers, if you've got the ability to make use of augmented and virtual reality then why not?
Let the customers visualise how that painting or piece of furniture will look in their room, or how awesome that pair of trainers are before purchasing. We know this is an ecommerce post, but our client VRHQ is nailing the VR front with 360 degree virtual tours of homes, why not take inspiration from them?
OK so maybe, you don't have the means to explore VR and AR. But you can still provide that one to one service with the likes of FaceTime, Zoom, Skype etc. adapt your offering and really hone in one what the consumer wants from you. A tailored service could mean they're more likely to shop with you now and in the future.

Points make prizes


Be honest, how many loyalty schemes are you a part of? It's easy to be drawn to the points cards, Boots being a popular choice, but how often do you feel like you're the one gaining here?
As we move to an online world especially with ecommerce it's important to factor in exactly how you can use these loyalty schemes to your customers advantage. Consider becoming more personal with your customers, if you see them consistently purchasing a certain type of product or brand, hit them with a discount code. It'll feel much more personal and encourage them to shop with you further as you're creating a much deeper relationship with the customer at hand.

Social commerce is very much real


There's no slowing down the ecommerce world at the moment. Social media platforms are constantly evolving on the commerce front, take a look at Facebook at one point people posted on their personal feed if they had something to sell, now there's an integrated marketplace for that. Same with ecommerce stores, there's now the possibility to use your Facebook and Instagram pages to sell products and services.
Connect with your audience wherever possible without compromising your relationships. For instance many CMS' can now link with Facebook and Instagram API's, meaning it's more seamless than ever to connect your catalogue, syncing all products from your website to these social networks. So if a new (or returning) customer finds your social pages, they can browse your shop front without actually having to leave the social platform, giving them the ability to also purchase through Facebook and Instagram (if this process has been configured) or direct to your website whereby they can continue the purchase.

Payment options


Gone are the days whereby we used to purchase items online knowing we could only pay by either PayPal and credit or debit card. With the launch of Apple Pay on 20 October 2014 and Google Pay 11 months later (11 September 2015) the online payment world was opened up to more choices.
Again, that choice has opened further with the integrations of shop now pay later schemes such as Klarna, ClearPay and the likes. It's important as a shop owner that you consider the variety of payment options available whilst thinking "how will they impact me?" "How will they encourage more customers to shop?"
If you feel like these trends are causing you a little bit of a headache and you're not sure where you should be starting, talk to our team. It all starts with a Click!