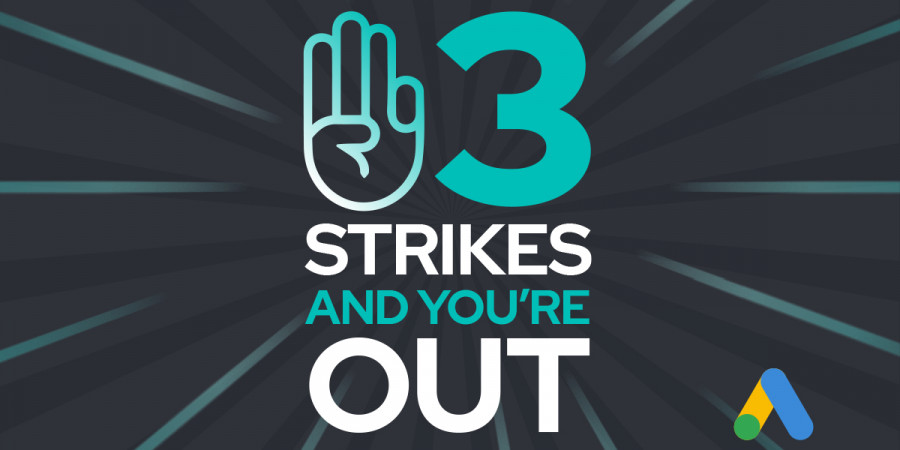 Google Ads: Three Strikes & You're Out
---
Google is forever making changes to their Google Ads advertising platform, some argue it's not always for the better but this latest change may be the right call. From September 21st Google will be implementing a strike-based system to enforce against advertisers who are consistently violating Google Ads policies.
What policies will be affected?
At the moment these may seem a little extreme to the common folk like us, but the policies being affected are:
Enabling dishonest behaviour
Unapproved substances
Guns, gun parts & related products
Explosives
Other weapons
Tobacco.
Over time, additional policies will be added in phases. Each time a new policy is added advertisers will be notified so there really isn't any reason not to be aware.
So, what actually is the change?
The strike-based system is just that, an advertiser who repeatedly offends the policies will be given up to three strikes until their account is suspended. These will be issued through both email and in-account notifications to deter the repetition of policy violations.
First and foremost, an advertiser who has violated the policies will receive a warning; continuous violations will mean an advertiser will receive their first strike. With the first and second strikes, a temporary account hold will be applied (for three and seven days!). The third? A full account suspension.
I have a strike now what?
If you have been placed on a temporary account hold Google have stated:
"An advertiser placed on a temporary account hold will be required to remedy the violations in question and to submit an acknowledgement form to resume serving ads."
Once the acknowledgement form has been submitted, the account should be released either three days after the first strike or seven days after the second. A strike happened in error? An appeal can be started, if it's successful the ads will start immediately. However, those who don't take any action against a strike will see their Google Ads account on hold for 90 days.
Our advice? Don't violate Google's policies!