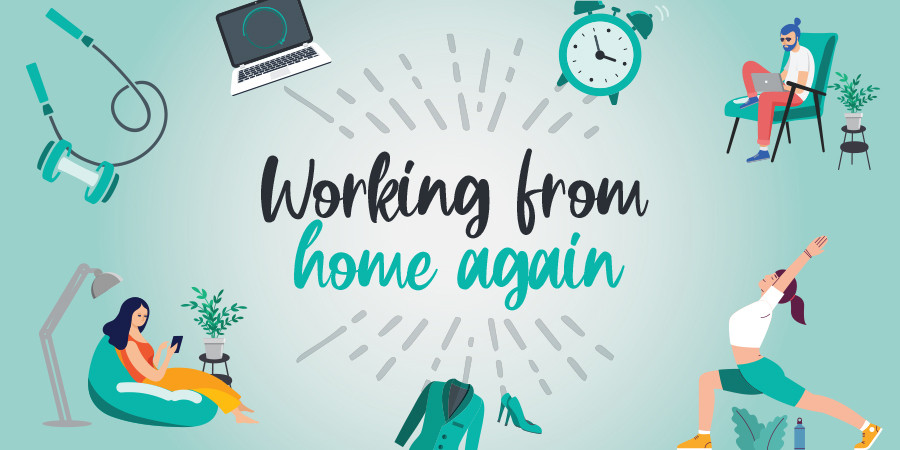 Working From Home Again
---
Another year, another lockdown. With most of us getting used to this working from home malarkey, we asked the team to share their top tips on getting the most out of the working from home life.
Wake up, workout and get dressed
Waking up early, chucking on some gym gear and either working out in my living room or going for a run starts my day off the right way. It sets me up for working from home for the day, I've had that breath of fresh air first thing and ready to tackle my day. From that, I fully recommended getting dressed, I don't mean full on workwear clothes, as we all know jeans are sooo last year; but throwing on a pair of comfy joggers or gym leggings means I'm less likely to jump back into bed if I put my pjs back on!
Beth - Social Media Manager
Get into a routine
Treat working from home like you're still heading into the office; by that I mean get yourself into a routine. Start the day waking up at the same time, having breakfast and setting out what you plan to do for the day. It may seem a little like Groundhog Day but with a routine at least you'll know where you're at. Oh, and don't forget to factor in your lunch hour - let your colleagues know when you're planning on taking this too. It adds a little more structure to your day.
John - Managing Director
Only work during work hours
Many people can't work from home because they have the inability to separate work time from home time. Working from home means that you can't "clock off" and that work is always there. This can be a problem if you haven't managed to solve something before the end of your working day / week. So learn to distinguish your timings and stick to them.
Mat - App Development Manager
Accept screen time will increase
Accepting your little ones screen time will no doubt increase makes your life a hell of a lot easier. If the Wiggles can buy you 20 minutes to get something important done, then that is totally fine. It's all about balance and finding what works for you and your family, plus there's some pretty cool educational videos out there!
Brett - Digital Consultant
Utilise the ability to exercise outside
Going for a walk on your breaks really takes the edge off, just getting yourself outside for 30 minutes is good for your mental health. Stepping away from your work and screen will do wonders, plus a change in scenery often helps you to reevaluate what you're working on.
James - Web Developer
Got some tips? Share them with us on
LinkedIn
.